Daily Dive – The Morning After the Reveal
Last night the Field of 64 for the NAIA Men's National Championships was released and there is a lot to dissect. We will most certainly have the breakdown of the bracket including the Pods and matchup breakdowns early next week. For today though, this article is just our first reactions and thoughts from the reveal and we also take a look at how our Bracketology Bracket compared to the actual Bracket!
NAIA Men's National Tournament Bracket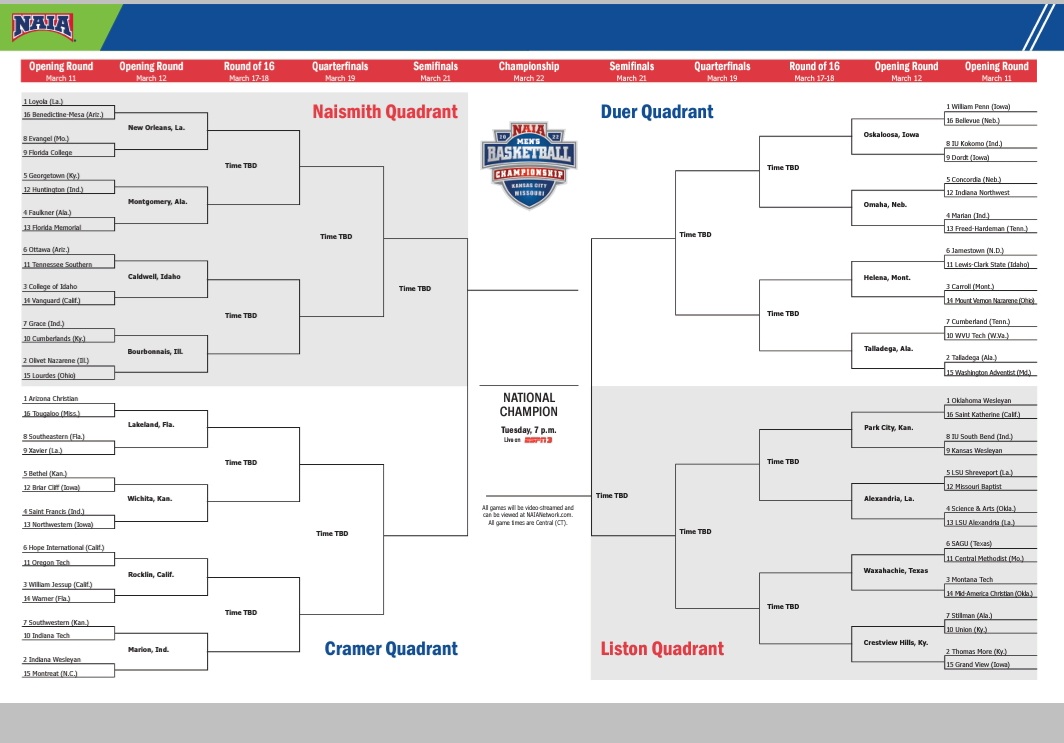 At First Glance
A couple of things stick out as we glance over the bracket.
Briar Cliff, who won the GPAC Regular Season, is a 12-seed and Northwestern (IA) is a 13-seed while Dordt who finished 4th and 3 games back of BC and 1 game back of 3rd place Northwestern, is a 9-seed.
Georgetown a 5-seed is interesting. This has been a Top 15 team for most of the season. They did lose 4 straight to end the regular season, but they followed that up by winning the Mid-South Tournament.
William Penn, a 1-seed again this year, has another tough Pod. Last year they had a tough MACU squad in their Pod, this year it's a VERY good Kokomo team who has won 16 straight coming into the NAIA National Championships.
As far as ARC's go, it was a bit surprising to see MVNU jump ahead of Cornerstone to make it into the tournament. Not that MVNU isn't deserving of a spot, just was interesting that the committee went against the ARC ratings so much with seeding and even with deciding what bubble teams make it in like MVNU over Cornerstone.
A lot of traveling for a handful of teams. Which was expected on our end as we saw a lot of teams from the same general area qualify, so placing them all close to home was going to be tough.
Overall, the committee didn't do a bad job. A few question marks on seeding that seems a bit forced at times, but overall no real shocking surprises of teams making it into the tournament.
1st Round Matchups
We will go deeper with matchups on our actual National Tournament Preview show and article, but here are some of the intriguing 1st round games!
Naismith Bracket
5 Georgetown vs 12 Huntington – 1 of 3 first round matchups between the Mid-South and Crossroads
6 Ottawa (AZ) vs UT Southern – Two teams that have some BIG wins under their belt. UT Southern seems a bit underrated with an 11-seed.
7 Grace vs Cumberlands (KY) – Another MSC vs CL matchup. A hot Grace team vs a very talented Cumberlands squad.
Cramer Bracket
4 Saint Francis vs 13 Northwestern – Alex Van Kalsbeek (NWC) vs David Ejah (USF) will be a fun battle of undersized forwards.
5 Bethel (KS) vs 12 Briar Cliff – Briar Cliff is limping into the tournament a bit, they will have to slow down one of the NAIA's best players in Jaylon Scott of Bethel.
Duer Bracket
8 IU Kokomo vs 9 Dordt – The River States Conference Champions, IU Kokomo have won 16 straight, but this will be almost a true road game for them as you can be sure Dordt fans will be out in full force in Oskaloosa.
5 Concordai (NE) vs 12 IU Northwest – Northwest always plays good teams tough and they have wins over both IU South Bend and Olivet Nazarene this season. This is another fun and intriguing 5 vs 12 matchup.
Liston Bracket
3 Carroll vs 14 MVNU – Kyle Kegley (MVNU) is a real load and even though they head to Carroll, this is an interesting matchup between these two teams. MVNU will have hands full though with Jovan Sljivancanin and Shamrock Campbell.
Our Bracketology Grades
Our main focus with the Bracketology Report was always to 1st nail what teams got into the actual Tournament. Red Banner did great again this year picking correctly on 62 of 64 teams in our final Bracketology Report. With the two teams we missed on being two teams that we had been back and forth on quite a bit. It is unfortunate that we saw the end of some great careers, but there also weren't any off the rocker additions to this years bracket either.
Another major positive in our bracketology report was our 52 of 64 "Pod Seed" predictions. This is the seeding, 1-4 in each Pod. Red Banner was once again ALL over it with a very respectable 81%
With this being the 1st year of a 64 team field, there is a lot to learn from how the raters view teams. Although we may not always agree and some of the seeding/pod assignments are a bit confusing, we will learn and grow from it for next year as we try to improve from our 6 for 32 on matchups being correct!
All in all, Red Banner is an astonishing 110 of 112 in the past two years of predicting what teams make the NAIA National Tournament. We want to, once again, thank him for his hard work all year long in helping to paint the picture of the NAIA National Championships for all of the coaches, players and fans.