DII Conference Tournament Week – DAY 4 Updates
By Tad Dorsey
This is your guide to the NAIA DII Conference Tournament Championship Week. This page will be updated each and every day as we go through the week!
---
Tuesday, February 25th – The North Star Athletic Association (NSAA), and The Sun Conference, both kick off Conference Tournament week starting tonight.
Wednesday, February 26th – The Cascade, Chicagoland, Crossroads, GPAC, River States, and WHAC all start 1st round action today!!
Thursday, February 27th – The AAC, and KCAC start first round action today!
Friday, February 28th – The Aii gets started with 1st round play, while the AAC, CCAC, and The Sun all feature semifinal matchups!
Read The: NAIA Hoops Report DII Conference Tournament Breakdown
NAIA Division II National Tournament Bids:
Host Auto Bid: Northwestern College
Qualified for National Tournament
AAC: Union (Regular Season Champs) – Montreat (AAC 2nd Auto Bid)
AII: No regular season bid
Cal-Pac: No regular season bid
CCC: College of Idaho
CCAC: Olivet Nazarene and Holy Cross
CL: Indiana Wesleyan
GPAC: Morningside
KCAC: Ottawa
NSAA: No regular season bid
RSC: WVU Tech
TSC: Southeastern
WHAC: Indiana Tech
AT LARGE RANKINGS based on the 02/26/20 NAIA Top 25 Poll
**Teams listed here are projected as to NOT get an auto bid through the tournament.
AT LARGE RANKINGS based on the 02/26/20 NAIA Top 25 Poll
| At Large | Team | Ranked | Result |
| --- | --- | --- | --- |
| AL1 | Oregon Tech | 9 | Beat 6 seed NW Christian |
| AL2 | Washington Adventist | 10 | Lost to 8 seed Lincoln Christian |
| AL3 | Grace | 13 | Lost to 6 seed Taylor |
| AL4 | St. Francis (IN) | 16 | Lost to 4 seed SAU |
| AL5 | Oklahoma Wesleyan | 18 | Beat 6 seed Friends |
| AL6 | Dordt | 19 | Lost to 6 seed Mount Marty |
| AL7 | Spring Arbor | 22 | Beat 5 seed St. Francis IN |
| 1st Out | IU Kokomo | 24 | Beat 3E seed Point Park |
| 2O | IU East | 23 | Beat 3W seed Midway |
| 3O | Mayville State | 28 | Beat 7 seed Dakota State |
| 4O | Concordia | 29 | Beat 5 seed Northwestern |
| 5O | Rochester | 32 | Beat 6 seed UM-Dearborn |
| 6O | St. Thomas | 36 | Beat 6 seed Webber Intl |
---
Projected Auto Bids
#5 Marian – Crossroads Tournament (Auto bid if Indiana Wesleyan Wins CL Tournament)
#7 Southern Oregon – Cascade Tournament
#11 Dakota Wesleyan – GPAC Tournament
#12 Antelope Valley – Cal-Pac Tournament
#14 Madonna – WHAC Tournament
#21 Keiser – Sun Tournament
#25 Southwestern – KCAC Tournament (Auto Bid if Ottawa wins KCAC Tournament)
#26 Bellevue – North Star Tournament
#30 Indiana South Bend – Chicagoland Tournament
#31 Montreat – AAC Tournament
#35 Indiana Southeast – River States Tournament
Lincoln (IL )– Aii Tournament Champion |Aii 2nd Auto Bid- College of Ozarks|3rd Auto Bid – Crowley's Ridge
Conference Tournaments
---
Appalachian Athletic Conference – (Kingsport, TN)
Schedule (Times EST)
Quarterfinals (Thursday, February 27th):

4 CIU vs. 5 Allen 91-83
1 Union vs. 8 Bryan 74-59
2 Montreat vs. 7 Tennessee Wesleyan 84-81
3 Miligan vs. 6 Kentucky Christian 86-70

Semifinals (Friday, February 28th)

4. CIU vs 1. Union 70-77
2. Montreat vs. 3. Milligan 100-68

Finals (Saturday, Feb 29th)

#1 Union vs. #2 Montreat 1pm
---
Association of Independent Institutions – (Hosted by Lincoln College)
Teams with At Large Chance: Washington Adventist
Best Chance for Top 3: Lincoln College, College of Ozarks, Crowley's Ridge
Bid Stealers Still Alive: Fisher, Haskell, Crowley's Ridge, Lincoln Christian
Schedule:
Quarterfinals (Friday, February 28th)

1 Washington Adventist vs. 8 Lincoln Christian 75-77
2 Voorhees vs. 7 Crowley's Ridge 81-92
6 Haskell Indian Nations at 3 Lincoln College 4:45 PM
4 College of the Ozarks vs. 5 Fisher 8:15 PM

Semifinals (Saturday February 29th)
Finals (Sunday, March 1st)
---
Cal Pac (Lancaster, California)
Teams with At Large Chance: Antelope Valley
Bid Stealers Still Alive: UC Merced, Cal Maritime, Simpson
Schedule:
Semifinals (Saturday, February 29th):

1 Antelope Valley vs. 4 Simpson 5:00 PM
2 UC Merced vs. 3 Cal Maritime – After the first game

Finals (Monday, March 2nd)
---
Cascade (Higher Seed)
Teams with an At Large Chance: Southern Oregon and Oregon Tech
Bid Stealers Still Alive: Eastern Oregon
Schedule:
Quarterfinals (Wednesday, February 26th)

8 Corban at 1 College of Idaho 67-85
7 Warner Pacific at 2 Southern Oregon 65-82
6 Northwest Christian at 3 Oregon Tech 83-87
5 Eastern Oregon at 4 Northwest 60-56

Semifinals (Saturday, February 29th):

#5 Eastern Oregon at #1 College of Idaho
#3 Oregon Tech at #2 Southern Oregon

Finals (Tuesday, March 3rd):
---
Chicagoland (Higher Seeds)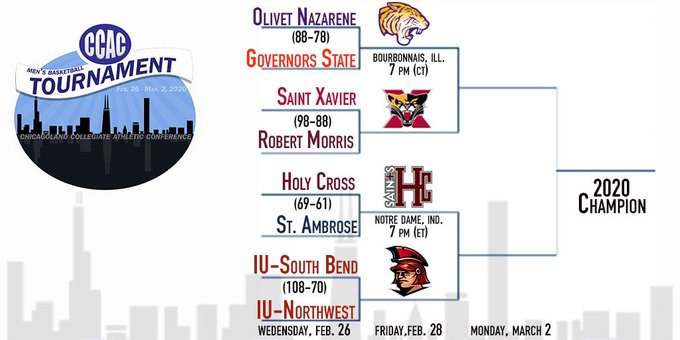 Teams with At Large Chance: Indiana South Bend
Bid Stealers Still Alive: Saint Xavier
Schedule (Times CST):
Quarterfinals (Wednesday, February 26th)

8 Governors State at 1 Olivet Nazarene 78-88
7 St. Ambrose at 2 Holy Cross 61-69
6 Indiana Northwest at 3 Indiana South Bend 70-108
5 Robert Morris at 4 Saint Xavier 78-88

Semifinals (Friday, February 28th)
Finals (Monday, March 2nd)
---
Crossroads League (Higher Seed)
Teams with At Large Chance: Marian, Grace, Spring Arbor, St. Francis
Bid Stealers Still Alive: Bethel, Taylor
Schedule:
Quarterfinals (Wednesday, February 26th)

8 Mount Vernon Nazarene at 1 Indiana Wesleyan 69-101
7 Bethel at 2 Marian 85-77
6 Taylor at 3 Grace 88-85
5 Saint Francis (IN) at 4 Spring Arbor 68-79

Semifinals (Saturday, February 29th)

4. Spring Arbor at 1 Indiana Wesleyan 3:00PM
7. Bethel (IN) at 6. Taylor 3:00PM

Finals (Tuesday, March 3rd)
---
Great Plains Athletic Conference (Higher Seed)
Teams with At Large Chance: Dakota Wesleyan, Dordt, Concordia
Bid Stealers Still Alive: Mount Marty, Hastings
Schedule (Times CST):
Quarterfinals (February 26th)

8 Hastings at 1 Morningside 84- 80
7 Jamestown at 2 Dakota Wesleyan 75-90
6 Mount Marty at 3 Dordt 75-74
5 Northwestern at 4 Concordia 63-74

Semifinals (Saturday, February 29th)

6 Mount Marty at 2 Dakota Wesleyan 3:00 PM
8 Hastings @ 4 Concordia 4:00 PM

Finals (Tuesday, March 3rd)
---
Kansas Collegiate Athletic Conference (Final at Hartman Arena in Park City, KS)
Teams with At Large Chance: Oklahoma Wesleyan and Southwestern
Bid Stealers Still Aliv: McPherson, Bethel (KS)
Schedule:
Quarterfinals (Thursday, February 27th)

8 York at 1 Ottawa 76-104
7 Bethel (KN) at 2 Southwestern 67-66
6 Friends at 3 Oklahoma Wesleyan 91-58
5 McPherson at 4 Kansas Wesleyan 63-74

Semifinals (Saturday, February 29th)

5 McPherson @ 1 Ottawa 7:00PM
7 Bethel (KS) @ 3 Oklahoma Wesleyan 7:00PM

Finals (Monday, March 2nd)
---
North Star Athletic Conference (Semis and Finals at Watertown Civic Arena)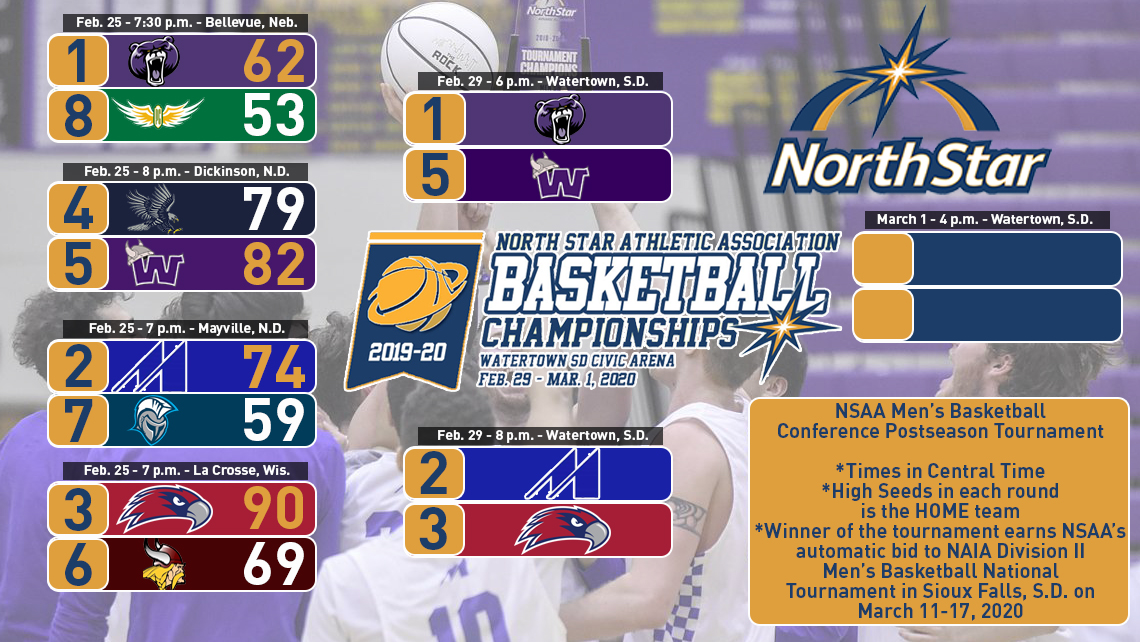 Teams with At Large Chance: Bellevue and Mayville State
"Bid Stealers" still alive: Viterbo, Waldorf
Schedule:
Quarterfinals (Tuesday, February 25th):
Semifinals (Saturday, Feb 29th)

1. Bellevue vs. 5. Waldorf 6:00PM CST
2. Mayville St. vs 3. Viterbo 8:00PM CST

Finals (Sunday, March 1st)
---
River States Conference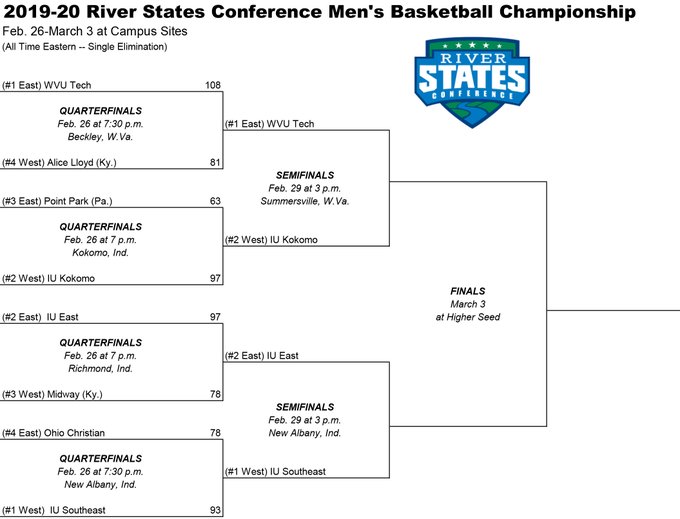 Teams with At Large Chance: IU Kokomo and IU East
Bid Stealers Still Alive: IU Southeast
Schedule:
Quarterfinals (Wednesday, February 26th)

4W Alice Lloyd at 1E WVU Tech 81-108
3E Point Park at 2W IU Kokomo 63-97
3W Midway at 2E IU East 78-97
4E Ohio Christian at 1W IU Southeast 78-93

Semifinals (Saturday, February 29th)
Finals (Tuesday, March 3rd)
---
The Sun Conference (Semifinals at Southeastern University)
Teams with At Large Chance: Keiser
"Bid Stealers" Still Alive: St. Thomas, Ave Maria
Schedule:
First Round (Tuesday, February 25th):

3. St. Thomas vs. 6. Webber International 94-87
4. Ave Maria vs. 5. Warner 89-67

Semifinals (Friday, February 28th)

4. Ave Maria at 1 Southeastern 5:00PM EST
2. Keiser vs. 3. St. Thomas 7:00PM EST

Finals (Saturday, February 29th)
---
Wolverine-Hoosier Athletic Conference
Teams with At Large Chance: Madonna and Lourdes
Bid Stealers Still Alive: Rochester, Cornerstone
Schedule:
Quarterfinals (Wednesday February 26th)

8 UNOH at 1 Indiana Tech 88-99
7 Siena Heights at 2 Madonna 66-93
6 UM-Dearborn at 3 Rochester 70-80
5 Cornerstone at 4 Lourdes 72-69

Semifinals (Saturday, February 29th)

5. Cornerstone at 1 Indiana Tech 3:00PM
3. Rochester at 2. Madonna 3:00PM

Finals (Monday, March 2nd)