Red Reiver Athletic Conference Tournament Preview
RRAC Tournament Preview Show
Road To Muni Podcast
Brought to you by the leader in NAIA Men's Basketball coverage, NAIA Hoops Report, The Road to Muni Podcast, formerly NHR – The Podcast, is a Podcast dedicated to NAIA Men's Basketball. Each week Junior and Pat Derksen will help to paint the men's basketball national championship picture as we discuss the action from the week prior, games to watch for the week ahead, interview coaches and much, much more! Support this podcast: https://podcasters.spotify.com/pod/show/naia-hoops-report/support
We are down to the final three games of the season as College of Idaho, Ottawa (AZ), Georgetown and Indiana Tech make up your NAIA Fab Four teams and tipoff on Saturday! In this episode, Junior and Pat dive deeper into the games, the paths of each team and more!
—
Support this podcast: https://podcasters.spotify.com/pod/show/naia-hoops-report/support
RRAC Bracket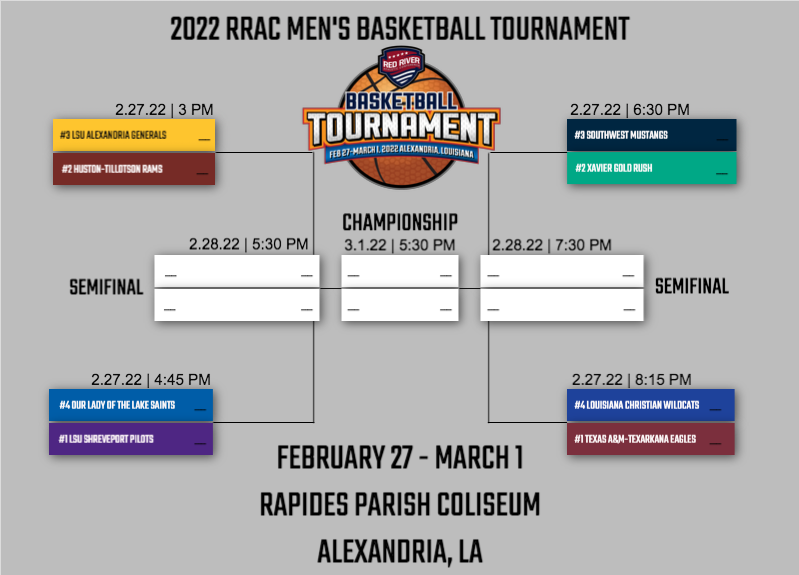 Seeding
1-Seeds
LSU Shreveport
Texas A&M Texarkana
2-Seeds
Huston-Tillotson
Xavier
3-Seeds
LSU Alexandria
Southwest (NM)
4-Seeds
Our Lady of the Lake
Louisiana Christian
RRAC Tournament Schedule
Sunday, February 27 – Watch: Red River Athletic Conference – Home (stretchinternet.com)
Quarterfinals
#2 Huston-Tillotson vs. #3 LSU Alexandria, 3 pm
#1 LSU Shreveport vs. #4 Our Lady of the Lake, 4:45 pm
#2 Xavier vs. #3 Southwest, 6:30 pm
#1 Texas A&M-Texarkana vs. #4 Louisiana Christian, 8:15 pm
Monday, February 28
Semifinals
Winners of Games 1 & 2, 5:30 pm
Winners of Games 3 & 4, 7:30 pm

Tuesday, March 1
Championship Game
5:30 pm
Favorite to Win RRAC Tournament
LSU Shreveport
Players to Watch
Kae'Ron Baker, Louisiana Christian – RRAC Player of the Year. The top scorer in the NAIA at 25ppg. He has take-over the game capabilities and LCU will need it from the 4-seed if they are going to try to make some noise and extend Baker's career.
Leondre Washington, LSUS – 7th in the league in scoring at 15.8ppg. Also averaging 3.3rpg, 3.0apg. One of the most electric guards in the NAIA. All-American last season and 1st team All-RRAC this year.
Royce Hunter, LSUS – Has been out of the lineup for a bit, but Hunter has been really good this year for Shreveport. He adds another scoring option to this team and has been a bit of a closer for them.
Jeff Boyd, LSUS – 15.2ppg, 4.8rpg, 2.0apg. 8th in blocked shots and 13th in steals as Boyd was the Defensive POY in the League. Tall and lanky shooter/scorer who can really get hot from deep.
Kobe Powell, Texarkana – Small, but mighty! Powell is a lot of fun to watch. He is 4th in the league in scoring at 17.1ppg and at 5'9 he plays much bigger than his size. He averages 6.2rpg and 4.5apg.
Connor Ouellette, Texarkana – Oullette was a 2nd Team All-RRAC selection this season. He is a good shooter/scorer and has had big games in this tourmament.
Jakemin Abney, LSUA – Averaging 15.3ppg. Smooth scorer who really competes.
A.J. Rainey, LSUA – Newcomer of the Year winner. Him and Abney together are explosive. Rainey is 2nd in the RRAC in scoring at 19ppg. He also averages 4.3rpg and 4.7apg.
Makye Richard, Xavier – All-American from last season. 1st Team All-RRAC this season. Makye has really stepped up his game in the absence of Rayshawn Mart.
Jeremiah Toney, Southwest – 3rd in the RRAC in scoring this season at 18.4ppg. Also averaging 6.8rpg.
Underdog to Win the RRAC Tournament
LSU Alexandria – Maybe not your typical "underdog" but they didn't play great down the stretch. They have the fire power, though, to win the RRAC Tournament. They also have the top two rebounders in the league and with games being played in the Rapides Coliseum we have seen some poor shooting performances, so rebounding will be huge.
Louisiana Christian – When you boast the best player in the league, and he is capable of going for 40 every night, it gives you chances to win games. We see special performances every year from elite scoring guards who aren't ready for their career to end and you have to wonder if we see one of those special performances from Baker in the RRAC Tournament!