Great Plains Athletic Conference Tournament Preview
GPAC League Bracket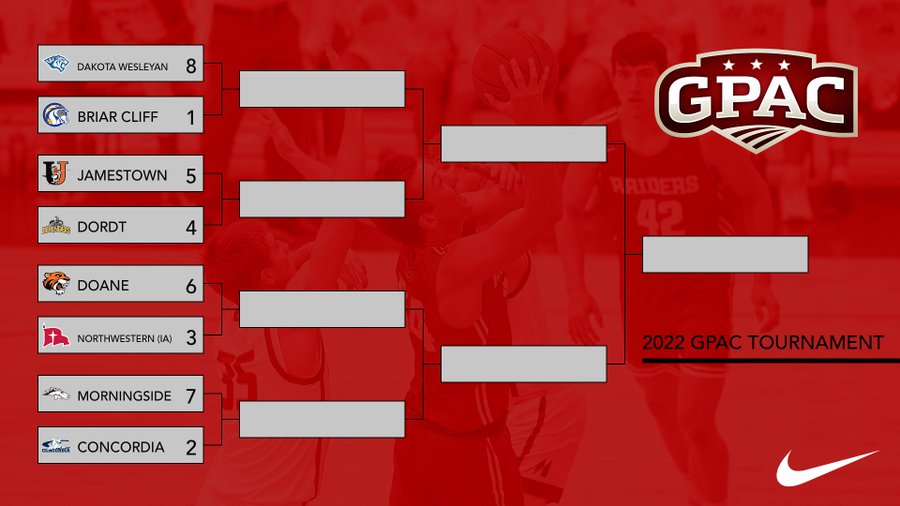 Seeding
Briar Cliff
Concordia (NE)
Northwestern
Dordt
Jamestown
Doane
Morningside
Dakota Wesleyan
CCAC Tournament Schedule
GPAC Men's Basketball Quarterfinals – Wednesday, February 23
#8 Dakota Wesleyan (12-15, 9-11 GPAC) at #1 Briar Cliff (19-10, 15-5 GPAC), 7pm – Watch
#5 Jamestown (22-8, 12-8 GPAC) at #4 Dordt (20-9, 12-8 GPAC), 8pm – Watch
#6 Doane (18-12, 11-9 GPAC) at #3 Northwestern (21-9, 13-7 GPAC), 8pm – Watch
#7 Morningside (14-11, 11-9 GPAC) at #2 Concordia (22-6, 15-5 GPAC), 7pm – Watch
GPAC Men's Basketball Semifinals – Saturday, February 26
#8/#1 winner vs. #5/#4 winner, Time TBA
#6/#3 winner vs. #7/#2 winner, Time TBA
GPAC Men's Basketball Championship Tuesday, March 1
Semifinal winners at highest remaining seed, Time TBA
---
Favorite to Win CCAC Tournament
1. Briar Cliff
2. Concordia (NE)
Top Players to Watch
Mason Walters, Jamestown – 24.9ppg, 11.6rpg. Just an unbelievable stats for one of the best players in the NAIA. Mason is inside the Top 5 in the GPAC in 14 different statistical categories.
Alex Van Kalsbeek, Northwestern – 22,6ppg, 8.2rpg, 3.5apg. Another GPAC big that has been dominant over his 2-yr career.
Bryce Coppock, Dordt – 19.2ppg, 4.2rpg, 2.3apg. Coppock is a big reason on why Dordt has been so tough this season. He is also playing some great basketball right now, scoring over 20pts in three of the past four games.
Jacob Vis, Dordt – 15.8ppg, 7.9rpg. The big man has been so good for Dordt this season.
Trent Hilbrands, Northwestern – 18.6ppg, 2.6rpg, 1.7apg. 4th in the GPAC in scoring and leads the NAIA in 3's made.
Carter Kent, CUNE – 16.5ppg, 3.3rpg, 3.1apg. 5th in the GPAC in ppg, 9th in blocks, 8th in steals, 13th in assists. Has had one heck of a career for the Bulldogs.
Gage Smith, CUNE – 13.8ppg, 8rpg. Smith is 5th in the GPAC in rebounding, 11th in points and 4th in FG%. Very important piece of the puzzle for CUNE.
Aiden Vanderloo, Morningside – 13.9ppg, 2.4rpg, 1.5apg. When Aiden is shooting well he is capable of putting up big numbers. He leads this Morningside team in scoring and is coming off once of his best games of the season.
Josiah Gardiner, Doane – 15.4ppg, 5.9rpg. The big man leads the GPAC in blocked shots and is 7th in scoring. He is also a monster on the offensive glass and generates so many 2nd change points for this tough Doane team.
Underdog to win GPAC Title
Jamestown – Hard to list them as the underdog here, but as the 5-seed this is where we are at. Mason Walters is one of the best players in the NAIA. If they can shoot well and consistently, they can win the GPAC Title.