NAIA Hoops Bracketology Report – Final Edition
Our final Bracketology Report of the season. It is crazy how fast the season goes by. Seems like just yesterday we launched our first ever NAIA Hoops Report Preseason Magazine and now here we are, entering the final month of the season. The regular season and conference tournaments are finished. Now, for 64 teams, it is time for the NAIA National Championships! This year's field is tough. The committee certainly has their hands full with sorting through the eligible teams. For our final Bracketology Report, we tried to "think as a committee member" the best we could. Our end goal with this has always been to be as close to the final field as possible. With the help of Red Banner Roundball, two years ago we were able to pick the entire field correctly, and last season we had all but two teams correct. This season, we are trying to get back to predicting the entire field. While our seeding may not match up completely, we are more concerned with predicting who makes the tournament! The toughest part is it is a BIG bubble this season. There are a lot of teams who have similar records, analytics and are nearly the same line of their ARC Ranking. Comparing Team A vs Team B isn't apples to apples in most cases. There are, in our opinion, some inflated RPI ratings for a few teams who have good overall records, but their NAIA record is unflattering, and they don't have the "wins" that someone may have who has a worse win%, worse RPI rating and thus, fall further down the ARC Rankings. Analytics are fun, they are great to look at, but they only tell a part of the story. The NAIA doesn't have national TV broadcasts, so it's harder for people to watch all of the teams across the NAIA. That is one thing that we hang our hat on. We take pride in the fact that we watch more NAIA basketball than anyone else in the country. Does that mean we are right on teams? No! However, if you have watched a lot of these teams down the stretch of the season, there are teams who are MUCH better now, then what their analytics say. There are also teams who are much worse, than what their analytics say who they are. We aren't in the War Room to know how those teams are being compared, but it also doesn't matter. At the end of the day, in any tournament, there will always be teams left home who deserve to be in. It's the makeup of every tournament field that exists. So, while there will be arguments for and against teams who make it in, it won't take away from the overall quality of the tournament itself.
NAIA Bracketology Report Final Bracket
---
Men's Auto-Bid Winners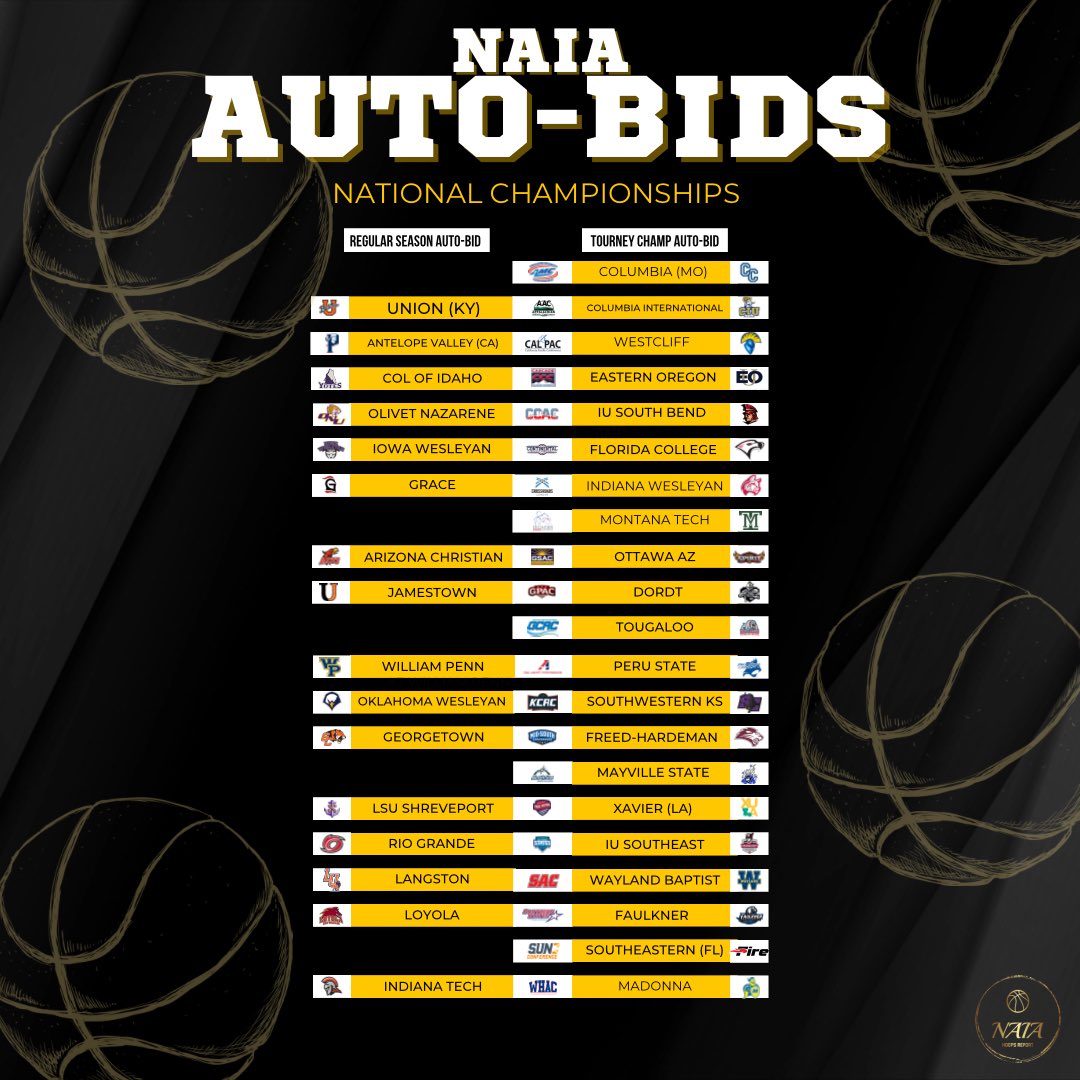 ---
At-Large Selections
This is where the comparisons come into play and the separation begins. Without the release of the new ARC and Analytical data it's a bit tougher to know where teams will come in at. Instead, we use some past information, along with some educated guesses on who is IN vs who is OUT. In our opinion, the Bubble conversation consists of 26 teams for the final 15 slots. Last year, the two misses we had, were listed in our First Four OUT section. The field below will be the majority of the conversation for the selection committee and we will reiterate the fact that there are legit arguments both for and against several of the teams on the Bubble. In particular, CUNE, Point Park and Oklahoma City have STONG arguments to be in. We won't be surprised if any of those three get into the actual NAIA bracket. As it stands right now, if our field was correct, Point Park would be the only team, who boasts a Conference Player of the Year, who wouldn't get in.
Teams Who Are IN
Huntington (IN)
Kansas Wesleyan
Morningside (IA)
The Master's (CA)
Thomas More (OH)
Tx A&M Texarkana
Marian (IN)
Pikeville (KY)
Evangel (MO)
Hope International (CA)
Shawnee State (OH)
Baker (KS)
Bubble IN
Jessup (CA)
SAGU (TX)
Northwestern (IA)
St Thomas (FL)
IU Kokomo
UT Southern
Westmont (CA)
Bethel (IN)
Lourdes (OH)
Bethel (KS)
St Xavier (IL)
Bubble IN, but NERVOUS
Last Four In
Thomas (GA)
Life (GA)
Rochester (MI)
MidAmerica Nazarene (KS)
Bubble OUT
First Four OUT
Concordia (NE)
Point Park (PA)
Oklahoma City
Southern Oregon
Next Four OUT
Corban
Montana State – Northern
Central Baptist
Stillman (AL)
---
Bubble Resumes
Because we think it's fun and these teams put in the effort….here are some of the bubble teams who are making their case to be IN the field of 64 for the NAIA National Championships! These are the ones we have been tagged in, if there are others, please let us know and we would be happy to add them in as well!
Thomas (GA)
Point Park
Lourdes
St Thomas
Bethel (KS)
Stillman
Concordia (NE)