The Sun Conference Tournament Preview
The Sun Conference Tournament Podcast Preview
We are down to the final three games of the season as College of Idaho, Ottawa (AZ), Georgetown and Indiana Tech make up your NAIA Fab Four teams and tipoff on Saturday! In this episode, Junior and Pat dive deeper into the games, the paths of each team and more! — Support this podcast: https://podcasters.spotify.com/pod/show/naia-hoops-report/support
SAC Bracket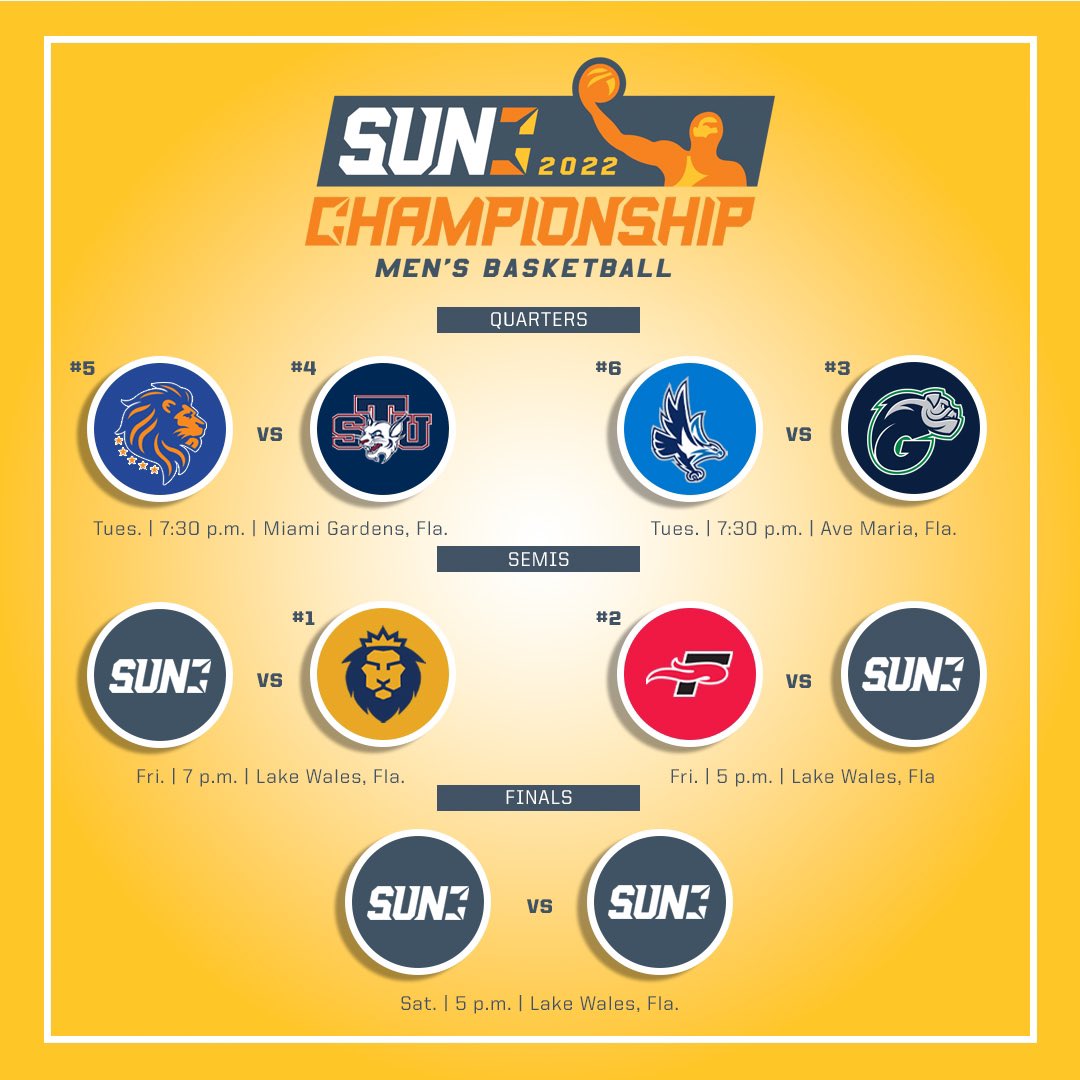 SUN Seeding
#1 – Warner (12-4)
#2 – Southeastern (12-4)
#3 – Ave Maria (11-5)
#4 – St. Thomas (11-6)
#5 – Florida Memorial (9-7)
#6 – Keiser (6-10)
---
Tournament Favorites
No. 1 Warner
No. 2 Southeastern
Players To Watch
Riley Minix, Southeastern – One of the best players in the NAIA. Minix has been phenomenal all season long and is on his way to being named The Sun Conference Player of the Year. Averages 23.2ppg, 11rpg and 2.3apg. Is Top 10 in the MSC in SEVENTEEN different statistical categories. Minix is truly a special player!
Jonas Parker, St Thomas – Parker is a future pro. He's Top 20 in most statistical categories in the TSC. Including 7th in FT%, 14th in points, 16th in assists and 16th in steals.
Corey Benton, Florida Memorial – Benton is 2nd in the league in scoring, 3rd in assists and 18th in rpg. Big part of Florida Memorials success this season.
Erick Klekas, Ave Maria – Klekas is such a thrill to watch. Does so many great things for Ave Maria. 4th in the league in scoring and 4th in 3pt%
Daryl Lewis, Ave Maria– Makes up a great 1-2 punch with Klekas. Lewis is 6th in the league in scoring, 12th in rebounding, 2nd in steals and 13th in assists.
DJ Mercer, Warner – DJ can pop off for 20+ when needed, but is such a well rounded guard. He sits at 15th in the league in scoring, but seems to always come up big in big games!
Core'von Lott, Keiser – Big Shot Lott, comes into the tournament 5th in the league in scoring at 15.6ppg. Core'von was huge last year in both the Sun Conf Tournament and National Tournament, so we will see if he has magic left in him to go get another big time postseason performance.
Dwayne Russell, St Thomas – Has really been good inside for St Thomas. Leads TSC in Rebounding at 12.6rpg. He is 1st in FT's, 3rd in FG% and 7th in ppg with 15.5.
Underdog Teams to Win Sun Title
St Thomas – This is a team that has lost sooo many close ball games throughout the year. They made a late charge and were within 1 game of first place with just 4 games left to play. They have the talent to beat anyone and if they can find a way to close out games they will be tough to beat!