NAIA DII Conference Tournament Week – Day 2 (Updated)
By Tad Dorsey
This is your guide to the NAIA DII Conference Tournament Championship Week. This page will be updated each and every day as we go through the week!
---
Tuesday, February 25th – The North Star Athletic Association (NSAA), and The Sun Conference, both kick off Conference Tournament week starting tonight.
Wednesday, February 26th – The Cascade, Chicagoland, Crossroads, GPAC, River States, and WHAC all start 1st round action today!!
Read The: NAIA Hoops Report DII Conference Tournament Breakdown
NAIA Division II National Tournament Bids:
Host Auto Bid: Northwestern College
Regular Season Auto Bids:
AAC: Union
AII: No regular season bid
Cal-Pac: No regular season bid
CCC: College of Idaho
CCAC: Olivet Nazarene and Holy Cross
CL: Indiana Wesleyan
GPAC: Morningside
KCAC: Ottawa
NSAA: No regular season bid
RSC: WVU Tech
TSC: Southeastern
WHAC: Indiana Tech
AT LARGE RANKINGS based on the 02/26/20 NAIA Top 25 Poll
**Teams listed here are projected as to NOT get an auto bid through the tournament.  
| At Large | Team | Poll Rank |
| --- | --- | --- |
| AL1 | Oregon Tech | 9 |
| AL2 | Grace | 13 |
| AL3 | St. Francis (IN) | 16 |
| AL4 | Dordt | 19 |
| AL5 | IU Kokomo | 22 |
| AL6 | Spring Arbor | 24 |
| AL7 | Southwestern | 25 |
| 1st Out | Mayville State | 28 |
| 2nd Out | Concordia | 29 |
| 3rd Out | Rochester | 32 |
| 4th Out | Lourdes | 33 |
| 5th Out | Indiana Southeast | 35 |
| 6th Out | St. Thomas | 36 |
---
Conference Tournaments
---
Appalachian Athletic Conference – (Kingsport, TN)
Teams with At-Large Chance Montreat 
Bid Stealers Still Alive: Miligan, CIU, Allen, Kentucky Christian, Tennessee Wesleyan, Bryan
Schedule (Times EST)
Quarterfinals (Thursday, February 27th):

4 CIU vs. 5 Allen 8:30 AM 
1 Union vs. 8 Bryan 10:15 am
2 Montreat vs. 7 Tennessee Wesleyan 3:30 pm
3 Miligan vs. 6 Kentucky Christian 5:15 pm
Semifinals (Friday, February 28th)
Finals (Saturday, Feb 29th)
---
Association of Independent Institutions – (Hosted by Lincoln College)
Teams with At Large Chance: Washington Adventist
Bid Stealers Still Alive: Voorhees, Lincoln College, College of the Ozarks, Fisher, Haskell, Crowley's Ridge, Lincoln Christian 
Schedule:
Quarterfinals (Friday, February 28th)

1 Washington Adventist vs. 8 Lincoln Christian 1:15 PM
2 Voorhees vs. 7 Crowley's Ridge 9:45 AM
6 Haskell Indian Nations at 3 Lincoln College 4:45 PM
4 College of the Ozarks vs. 5 Fisher 8:15 PM
Semifinals (Saturday February 29th)
Finals (Sunday, March 1st)
---
Cal Pac (Lancaster, California)
Teams with At Large Chance: Antelope Valley
Bid Stealers Still Alive: UC Merced, Cal Maritime, Simpson 
Schedule
Semifinals (Saturday, February 29th): 

1 Antelope Valley vs. 4 Simpson 5:00 PM
2 UC Merced vs. 3 Cal Maritime – After the first game
Finals (Monday, March 2nd)
---
Cascade (Higher Seed)
Teams with an At Large Chance: Southern Oregon and Oregon Tech
Bid Stealers Still Alive: Northwest, Eastern Oregon, Northwest Christian, Warner Pacific, and Corban
Schedule: 
Quarterfinals (Wednesday, February 26th)

8 Corban at 1 College of Idaho
7 Warner Pacific at 2 Southern Oregon
6 Northwest Christian at 3 Oregon Tech
5 Eastern Oregon at 4 Northwest 
---
Chicagoland (Higher Seeds)
Teams with At Large Chance: Indiana South Bend
Bid Stealers Still Alive: Saint Xavier, Robert Morris, Indiana Northwest, St. Ambrose, Governors State
Schedule (Times CST)
Quarterfinals (Wednesday, February 26th)

8 Governors State at 1 Olivet Nazarene 7:00 PM
7 St. Ambrose at 2 Holy Cross 6:00 PM
6 Indiana Northwest at 3 Indiana South Bend 6:00 PM
5 Robert Morris at 4 Saint Xavier 7:00 PM
Semifinals (Friday, February 28th)
Finals (Monday, March 2nd)
---
Crossroads League
Teams with At Large Chance: Marian, Grace, Spring Arbor, St. Francis
Bid Stealers Still Alive: Bethel, Taylor and Mount Vernon Nazarene 
Schedule:
Quarterfinals (Wednesday, February 26th)

8 Mount Vernon Nazarene at 1 Indiana Wesleyan 7:00 PM
7 Bethel at 2 Marian 7:00 PM
6 Taylor at 3 Grace 7:00 PM
5 Saint Francis (IN) at 4 Spring Arbor 7:00 PM
Semifinals (Saturday, February 29th)
Finals (Tuesday, March 3rd)
---
Great Plains Athletic Conference
Teams with At Large Chance: Dakota Wesleyan, Dordt, Concordia
Bid Stealers Still Alive: Mount Marty , Jamestown, Hastings
Schedule (Times CST):
Quarterfinals (February 26th)

8 Hastings at 1 Morningside 8: 00 PM
7 Jamestown at 2 Dakota Wesleyan 7:00 PM
6 Mount Marty at 3 Dordt 8:00 PM
5 Northwestern at 4 Concordia 8:00 PM
Semifinals (Saturday, February 29th)
Finals (Tuesday, March 3rd)
---
Kansas Collegiate Athletic Conference (Final at Hartman Arena in Park City, KS)
Tournament Page | Watch Live
Teams with At Large Chance: Oklahoma Wesleyan and Southwestern
Bid Stealers Still Aliv: Kansas Wesleyan, McPherson, Friends, Bethel (KN), York
Schedule:
Quarterfinals (Thursday, February 27th)

8 York at 1 Ottawa 7:00 PM
7 Bethel (KN) at 2 Southwestern 7:00 PM
6 Friends at 3 Oklahoma Wesleyan 7:00 PM
5 McPherson at 4 Kansas Wesleyan 7:00 PM
Semifinals (Saturday, February 29th)
Finals (Monday, March 2nd)
---
North Star Athletic Conference (Semis and Finals at Watertown Civic Arena)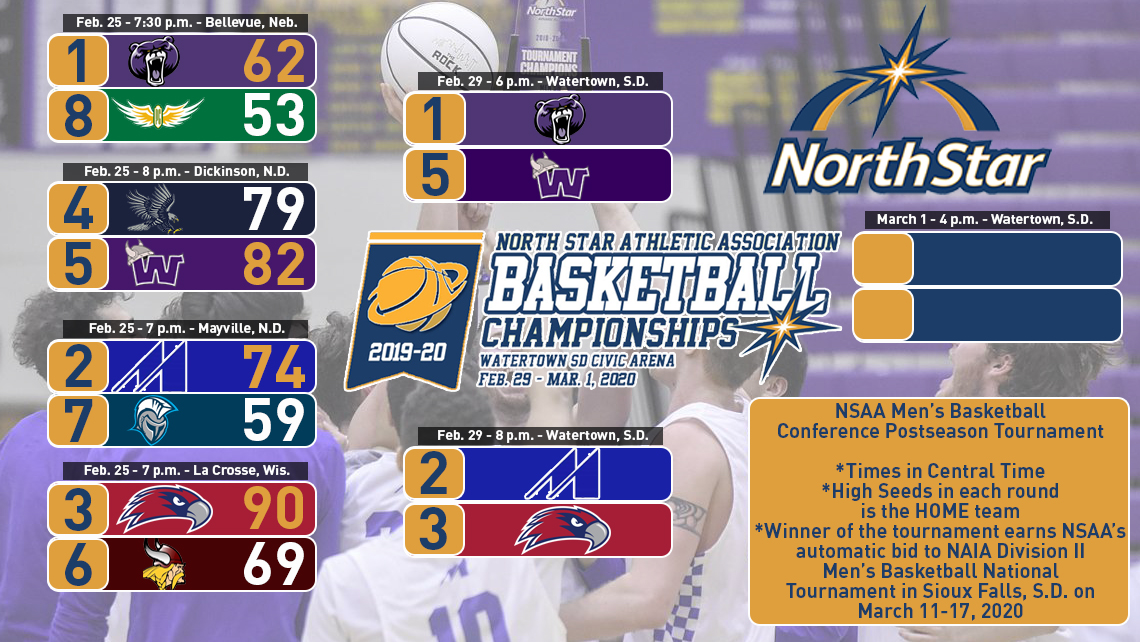 Teams with At Large Chance: Bellevue and Mayville State
"Bid Stealers" still alive: Viterbo, Waldorf
Schedule:
Quarterfinals (Tuesday, February 25th): 
Semifinals (Saturday, Feb 29th) 

1. Bellevue vs. 5. Waldorf 6:00PM CST
2. Mayville St. vs 3. Viterbo 8:00PM CST
Finals (Sunday, March 1st)
---
River States Conference
Teams with At Large Chance: IU Kokomo and IU East 
Bid Stealers Still Alive: IU Southwest, Midway, Point Park, Alice Lloyd, Ohio Christian 
Schedule:
Quarterfinals (Wednesday, February 26th)

4W Alice Lloyd at 1E WVU Tech 7:30 PM
3E Point Park at 2W IU Kokomo 7:00 PM
3W Midway at 2E IU East 7:00 PM
4E Ohio Christian at 1W IU Southwest 7:30 PM
Semifinals (Saturday, February 29th)
Finals (Tuesday, March 3rd)
---
The Sun Conference (Semifinals at Southeastern University)
Teams with At Large Chance: Keiser
"Bid Stealers" Still Alive: St. Thomas, Ave Maria
Schedule:
First Round (Tuesday, February 25th):

3. St. Thomas vs. 6. Webber International 
4. Ave Maria vs. 5. Warner
Semifinals (Friday, February 28th)

4. Ave Maria at 1 Southeastern 5:00PM EST
2. Keiser vs. 3. St. Thomas 7:00PM EST
Finals (Saturday, February 29th) 
---
Wolverine-Hoosier Athletic Conference
Teams with At Large Chance: Madonna and Lourdes
Bid Stealers Still Alive: Rochester, Cornerstone, UM-Dearborn, Siena Heights, UNOH

Schedule:
Quarterfinals (Wednesday February 26th)

8 UNOH at 1 Indiana Tech 7:00 PM
7 Siena Heights at 2 Madonna 7:00 PM
6 UM-Dearborn at 3 Rochester 7:00 PM
5 Cornerstone at 4 Lourdes 7:00 PM
Semifinals (Saturday, February 29th)
Finals (Monday, March 2nd)