NAIA Hoops Report Game of The Week
NAIA Game of the Week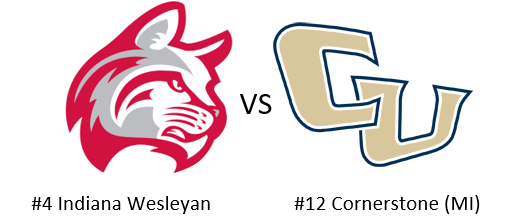 ---
Friday October 25th, 7:00pm (Watch Live) ESPN 3
The Crossroads/Wolverine-Hoosier Challenge gives us a great match-up between NAIA DII #4 and #12.
Probable Starters
#4 Indiana Wesleyan

#24 Mangas – 6'4 JR G
#33 Coffey – 6'3 SR G
#15 Adetukasi – 6'6 FR F
#42 Maxwell – 7'0 SO C

#12 Cornerstone (MI)

#34 Meriwether – 6'3 JR G
#5 Costen – 6'5 R-JR G

#33 Baker 6'4 R-JR F
#21 Hayes – 6'8 R-JR F
Outlook
#4 Indiana Wesleyan will return off of their Canadian trip that saw them go 1-1. The games were played with some different rules, and structure, but a great learning trip for this young group. All-American Kyle Mangas currently leads the team in points (18ppg), and assists (5.0apg). Jonathan Mpanzu currently leads the team in rebounds (6.0rpg).
VS.
#12 Cornerstone (MI) will make their season debut. 3x NAIA DII National Champ, and Hall of Fame Head Coach Kim Elders will have his squad ready to compete. They qualified for the NAIA DII Sweet 16 last season, and return All-American guard Christian Rodriquez who averaged 13.5ppg, and 4.0apg last season.
This will be a battle between two teams that you will see in Sioux Falls, S.D at the NAIA DII National Tournament. It is a great early season game, that win or lose, both teams will be able to learn from, and be a better team coming out of it. It should be a great back and forth game, and I encourage anyone who is able, to watch two of the best NAIA programs in the country play tonight!